I took the big 44-mcg Rebif shot last night.
I thought if I took it at night that I'd be able to sleep through the side effects.
It didn't work.
I tossed and turned. Right now I'm practically falling over, I'm so tired. I almost started crying downstairs just a few minutes ago for virtually no reason whatsoever other than I'm so, so, so, so tired. I'm tired, in spite of the fact that I'm on Adderall, which is a respectably strong amphetamine used to fight fatigue.
I'm really getting slapped around right now.
I took Bayley to school at 7:45. I took Eric to school at 9:30. I'll go pick them up @ 3:00 & 3:30, respectively. My sister-in-law is downstairs playing with my niece E, who is as cute as a bug's ear. Here's a picture of her. My dog, Bella, is in the background: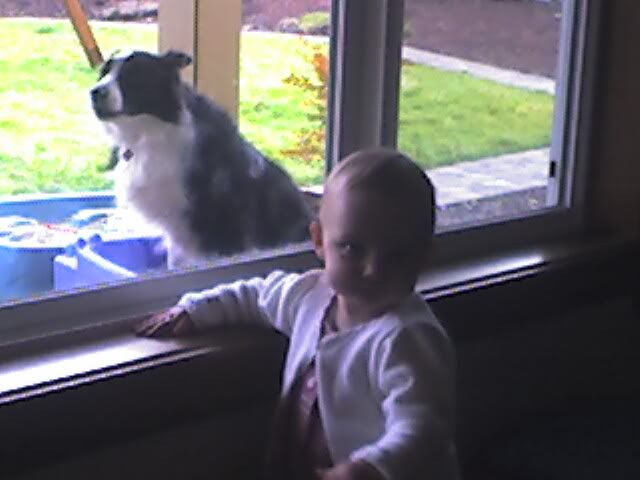 I am going to bed.
Not that I'll be able to sleep. I'll just whimper for a few hours.
It's a beautiful day.
It's too high to get over (yeah, yeah)
Too low to get under (yeah, yeah)
You're stuck in the middle (yeah, yeah)
And the pain is thunder (yeah, yeah)
----Michael Jackson, "Wanna Be Startin' Something"